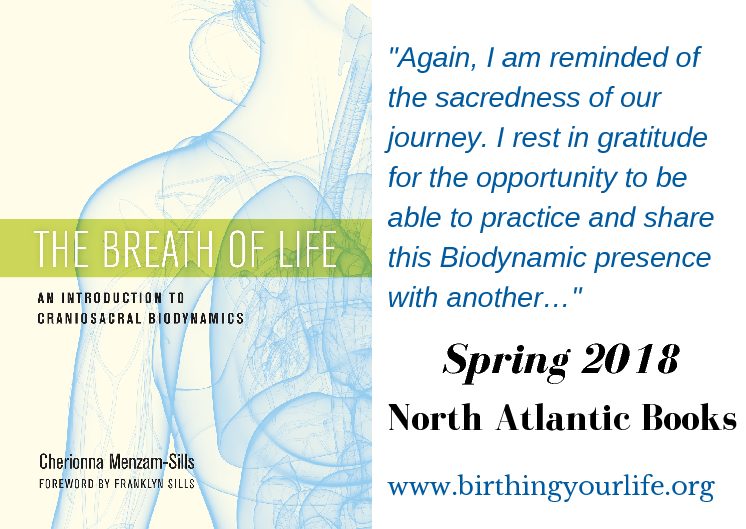 THE BREATH OF LIFE: AN INTRODUCTION TO CRANIOSACRAL BIODYNAMICS
The Breath of Life invites the reader into the profound, meditative healing practice of Craniosacral Biodynamics, as developed and taught by Biodynamics pioneer, Franklyn Sills. Author, Cherionna Menzam-Sills draws on years of practice, teaching and clarifying interaction with her husband, Franklyn, as well as integrating her extensive background in Pre- and Perinatal Psychology, embryology, bodywork, Continuum and other somatic therapies, to provide a uniquely and mindfully embodied introduction to Biodynamics.
Through body-based explorative meditations, you enter into your own Biodynamic journey in these chapters. You are guided in enquiring into the nature of the relational field between client and practitioner (or any relationship), how to negotiate safe, nurturing touch, beginning to deepen and widen your perception and sense under the patterns and symptoms relating to our conditions. Here, we encounter the universal or "Biodynamic" forces of life, which organize our form and guide our session work.
Whether you are interested in receiving Craniosacral therapy, in becoming a practitioner, deepening your skills as a therapist, or just curious, you may find your heart opened as you are touched by the Breath of Life.